ParticleScreen is a patent-pending fabric technology used in non-medical masks, gaiters and other facial coverings, ensuring an optimal balance of filtration, breathability and comfort.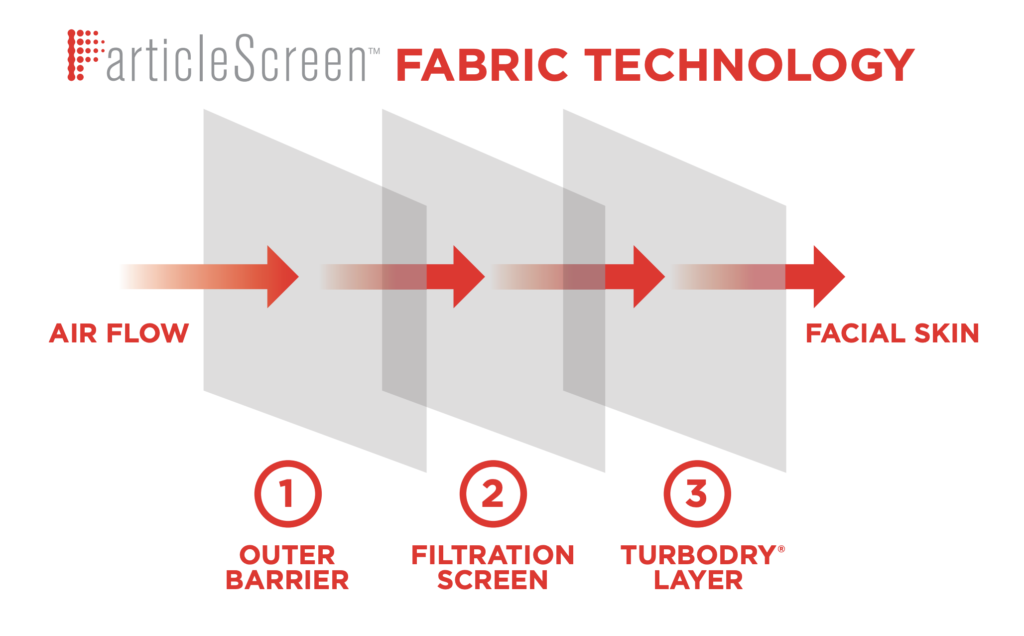 Adopt Our Fabrics
Our team is also helping product design teams adopt ParticleScreen technology into non-medical facial coverings to ensure wearers remain as comfortable, safe and active as possible.
Outer Barrier
Custom Fabric
Outer Barrier
The outer layer uses a water-repellant and optional antimicrobial finish to ensure long-lasting comfort and enhanced protection. The outer layer can be made of natural, synthetic or blended yarns to meet unique design requirements.
Middle Layer
ParticleScreen
ParticleScreen
The middle membrane filters out small airborne particles that would otherwise be inhaled. This layer is discretely sandwiched between TurboDry's advanced inner layer and a protective outer covering.
TurboDry
The inner liner is made with patent-pending TurboDry fabric. TurboDry uses proprietary, one-way moisture transport technology to move moisture away from the face, leaving skin dry and comfortable. TurboDry also helps keep glasses from fogging.
Adopt Our Designs
ParticleScreen technology is available in two unique mask constructions that are easily branded to meet your specific needs.