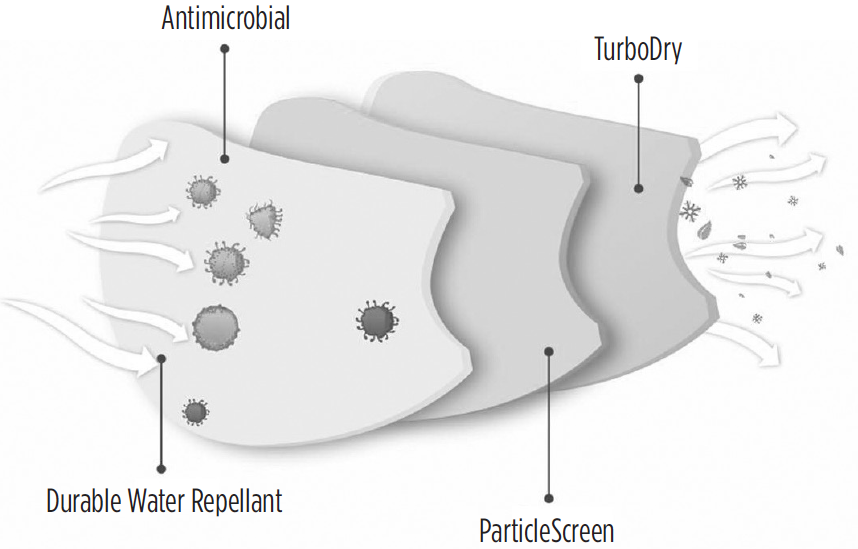 Comfort + Filtration
It's time to upgrade your traditional, non-medical mask.
The vast majority of today's facial coverings fall far short of providing the right balance of comfort, filtration and breathability.
Now sweaty, stuffy, uncomfortable facial coverings have met their match! Introducing ParticleScreen — advanced fabric technology for masks, gaiters and other face-covering accessories.
ParticleScreen is a 3-layer, patent-pending fabric technology that blocks airborne particles and moves moisture away from the face. It greatly surpasses the particle filtration capabilities and key performance metrics of a wide range of existing products.
ParticleScreen's proprietary fabrics provide users with superior filtration and unmatched comfort. The outer surface is water-repellent and anti-bacterial. The middle layer contains a film lining that filters airborne particles.  And the inner liner, made with patent-pending TurboDry® technology, moves moisture away from the face, leaving skin dry, cool and comfortable.
It's a new dimension in facial protection technology.
ParticleScreen is not a medical-grade mask and is not intended to replace medical-grade protective personal equipment.

 

Please remember to follow all medical guidelines to help stop community spread of viruses including social distancing, handwashing, face touching and wearing PPE.